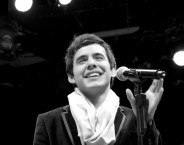 Tune in this Sunday to FM100.3 for a sneak preview of Glorious, a new recording by David Archuleta. The song will be heard near the end of the soon-to-be-released movie Meet the Mormons.
You can hear an interview with David and the new recording on FM100.3 or online at http://www.softsundaysounds.com/ this Sunday at the end of the first music set in the 7am, 9am, 12pm, 2pm, and 4pm hours MDT.
More information at: FM100.3 Facebook and fm100.com.