May 9, 2012
Extreme Makeover Home Edition Philippines is a TV5 reality show that grants home renovations to deserving Filipino families all over the country with a concept of giving "New House and New Life".
One of the recipients is Carmita Zulueta-Beleno, a 35-year-old mother. Carmita comes from two generations of breast cancer survivors. Her family was also a victim of the killer flood "Ondoy" that caused the death of thousands of people in her Marikina area. Carmita has an 8-year-old daughter named Andi. Andi, like any typical little girl loves playing Princess, Barbie, Cartoon Network, playing chef and gardening but above all – She's a David Archuleta fan. The little girl even set "Something 'Bout Love" as her alarm clock tune.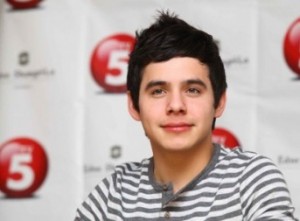 One day, Andi had her dream of meeting David Archuleta come true. Watch Alejandra "Andi" Beleno's meet-and-greet with David at Extreme Makeover Home Edition Philippines, on May 13, 2012, Sunday at 8:30pm local time.
For more information on Extreme Makeover Home Edition Philippines, visit its official website.